In step 4 of Build Your Marketing Machine we evaluated and decided on what tactics to use in order to generate leads coming into the business.  The tactics used needed to be aimed at the right target client and promote a consistent message. With so many tactics available to choose from, is there any other factors to consider that might help to narrow down the choice?  Well, yes there is.  It is called the marketing hourglass concept and this is Step 5 in our Marketing Machine.  This was developed by one of the gurus of small business marketing, John Jantsch whose book "Duct Tape Marketing" is a bit of a bible in this area.
In the old-fashioned marketing and sales theory, most marketing tactics were aimed at all the potential clients out there in the marketplace.  It relied on mass marketing and blasting out messages in volume to whoever may be listening.  The aim of this shotgun approach was to attract people into the sale funnel and hopefully out the bottom would drop customers.  The process was then repeated again and again.  Its effectiveness is dependent on your advertising budget.  BIG budget, good result.  Small budget, little or no result.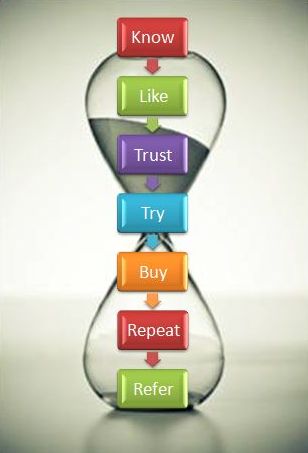 Most small businesses have correspondingly small promotional budgets, so a more effective way was required to generate sales.  This is where John Jantsch's "Hourglass" model comes in.  Rather than spend all your promotional dollars in mass advertising to attract first time buyers, the hourglass model encourages you to spend as much if not more on building relations with existing customers with the aim to maximize repeat and referral sales.  The theory being it is way cheaper to market to an existing customer than keep on finding new ones.
Seems obvious when you think about it, but in the days of mass advertising, it was radical thinking!  Generally trades business owners are excellent at building relations with existing customers and receiving a high percentage of their revenue from repeat or referral sales.  Up to 75% is pretty common.
So, what pro-active tactics are you using to maximize repeat and referral sales in your business?  Need some help here to build on or refine what you are doing?  Contact me at andy@tradescoach.co.nz and I can help you build your customized hourglass marketing model for your company.
Andy Burrows
The Trades Coach